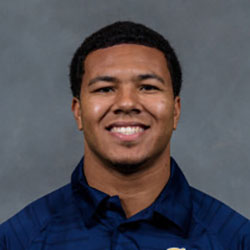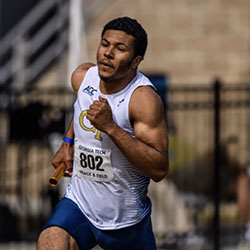 Sport: Track & Field
Year: Third Year
Major: Chemistry
Hometown: Augusta, Georgia
Ben Jean started running in middle school as a way to stay in shape. But in high school, he began to take running seriously, and by the time Jean was a senior, Georgia Tech's
Coach Hinsdale
was recruiting him for men's track and field.
Now he had a choice to make. Tech's football program was also wooing him. He knew that Georgia Tech was his school, but which sport would he choose?
Ultimately, it was Hinsdale's scholarship offer that synched the deal. "I felt I had a better opportunity in track," Jean says. He was impressed by Hinsdale's record of turning out great runners who went on to compete in the Olympics and NCAA nationals. In track, his future was bright.
Now, Jean primarily runs the 400 meter and 4 x 400 meter relay. "As I ran more, I grew to really love the 400," he says. Throughout the summer and fall, Jean runs five days a week and lifts weights three days a week in the mornings. In the spring, the weekends are reserved for meets.
The packed schedule doesn't faze Jean. He just finished a semester of 15 credit hours plus three hours of research. "You get used to the balance," he says. He is also a member of the
Georgia Tech Energy Club
and
Student-Athlete Advisory Board
, which solves problems and create initiatives to unify athletes.
Jean initially was a biochemistry major with a pre-health concentration. But as he took more chemistry courses, he realized his passion lay with chemistry research, specifically in energy conversion.
He currently conducts inorganic chemistry research in the lab of
Henry La Pierre
, working to make lanthanides more readily accessible for industry. Jean hopes to continue this research until he graduates. He plans to go to graduate school and then go work in industry.
Jean considers himself blessed to have had successful first- and second-year seasons. "If I continue on the track I've been progressing," he says, "running after I graduate is a good possibility."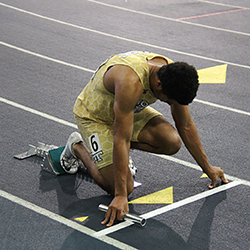 What do you love most about track?
I love the competition of track. It's not a team sport; it's purely you versus the guys next to you. Everything's on your shoulders. You're truly in control of your destiny when competing.
What's most challenging about track?
The hardest thing is when, come meet times, you're not at the times you want to be at. You're running but not really improving – that's the most difficult, when you're not seeing the results of the hard work that you put in the past year. But it always comes eventually.
What has been the most surprising thing about track?
The athletes we have here. To be recruited to come here, they already have to be at the top of their sport. And everyone here is really studious and focused on academics. The environment at Tech is really good for the athletes. We all build off each other. As iron sharpens iron we all get better.
Who are your role models?
My family, my mom, and my sisters. As long as I can remember, they're always pushing me to be the best that I can be. And Coach Hinsdale pushes me to be better and better.
What is your advice for future student athletes?
Make sure you balance everything. It's easy to get frustrated or to want to bite off more than you can chew with courses or training, but if you remain patient and diligent it's definitely doable.