Location, Map, Directions
The College of Sciences Dean's Office is located at 225 North Ave NW, in Tech Tower, Georgia Tech's main Administration Building, which is Building 35 on the campus map.
Georgia Tech College of Sciences
Office of the Dean
225 North Ave NW #202
Administration Building
Atlanta, GA 30332-0365
Find contact information in our departmental directory.
Visit Google Maps for directions.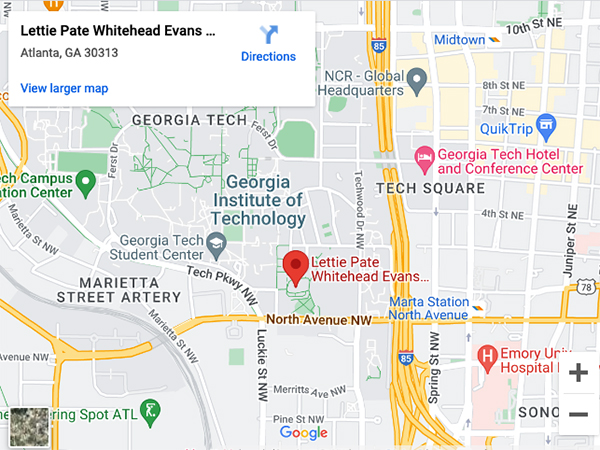 Arrange a Visit
You can register for campus tours and the College of Sciences information sessions as part of the "It's All About Science and Math" visitation program on Wednesdays and Fridays, from 10 a.m. to 3 p.m. A visit includes an introduction to degree programs, a class visit, lunch with faculty and students, admission and financial aid information, and a campus tour.
Accept Our Invitation To Explore Science And Math
If you have been offered undergraduate admission to Georgia Tech, you will receive an invitation to come to one of the "EXPLORE Science and Math" visitation weekends in the College of Sciences. These weekend visits are typically held in February and April.
Attend Sessions to Examine Options For Graduate Studies
If you are interested in pursuing graduate studies, the College of Sciences has two visitation programs to help you explore options.
Each fall semester, the College of Sciences welcomes individual undergraduate students, student groups, and classes to Research Bound in STEM, a day-long workshop for students interested in pursuing graduate studies in sciences and mathematics.

Every year, over the Martin Luther King, Jr. Holiday weekend, the College of Sciences participates in Georgia Tech's Focus Program, which aims to attract the best and brightest underrepresented minority students and encourage them to pursue graduate studies at Georgia Tech.