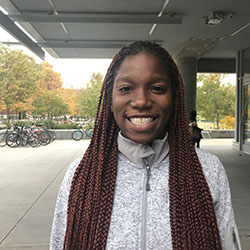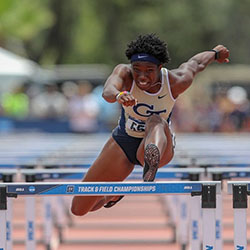 Sport: Track & field
Major: Biochemistry
Year: Fourth Year
If you had gone back in time and told Jeanine Williams that she'd be an NCAA Indoor
and
Outdoor All-American athlete, she'd probably laugh. "Coming from a small high school in Jamaica, which wasn't that athletic, I didn't think I would come to the United States and have such a big impact on the ACC [Atlantic Coastal Conference] for my school," she says.
She's aware of the responsibility that comes with it, "I hope it helps to motivate my teammates to be the best that they can be so that they can achieve the same thing I have."
Williams was always athletic, participating in every sport she could find as a kid. But in the end it came down to track and dance. She chose track.
"I liked running, it was more about me," Williams says, "I just liked relying on myself." Today she mostly focuses on hurdles, running the 100 meter or 4x100 meter relay.
Initially, Williams attended Auburn University. But something was missing. Her high-school coach put her in touch with
Nat Page
, Georgia Tech's jumps/hurdles coach. As if by fate, they met in Poland, where she represented Jamaica at the
IAAF World U20 Championships
, an international athletics competition for juniors.
On her way back to Auburn she visited Tech and found that she felt at home in the city. Williams decided to stay, transferring to Tech for her second year to study biochemistry.
Page played a large role in the decision. At Auburn, Williams felt that she didn't click with her coach as much as she wanted. "I realized he wouldn't help me with my goals," she says. But in Page, she found someone whose vision aligned with hers. "He's really nice, understanding. He listens, you can always sit down with him and brainstorm ways you can move forward and improve."
Today, outside of class and track, Williams spends time investing in her community. She volunteers at homeless and kids' shelters. She hopes to volunteer for Children's Healthcare of Atlanta. She serves on the
Student-Athlete Advisory Board
and as a community service liaison for her
team
.
Williams has no shortage of ambition. After graduation, she plans to become a professional athlete. Then she hopes to go to medical school to train for pediatric surgery or obstetrics/gynecology.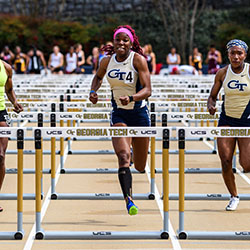 What do you love most about track?
Winning. Not winning all the time, but when you run a race and you know you did your best, that's a good feeling. And to me it's fun. It makes me happy, it gives me a chance to channel my emotions. If you're upset about something, you can channel your anger or your sadness through practice.
What is most challenging about track?
Practice. You really have to be disciplined. You have to have a strong mind to go through some of the workouts we do, especially for conditioning. We do mileage stuff like cross-country, and it's not fun, but once you get through that you'll be fine.
How do you balance practice with your schoolwork?
I get that question a lot, and honestly, I don't know. I have a calendar on my wall so I know when my exams are and when my assignments are due and when meets are. It's hard sometimes because you want a break, you just want to lie down in bed and you can't do that.
Who is your role model?
Definitely my mom. She has taught me to be a strong individual. A single mom with two kids, she has shown me that you have to be selfish at some point, to focus on yourself. She pushed me to be excellent in the classroom and on the track
Do you have any advice for future student athletes?
Just come out. Don't be afraid to try it. You might not want to because of the heavy load of schoolwork we have, but you can always balance it. Don't be afraid to just step on the track and ask if you can try it too.
To celebrate the International Year of the Periodic Table, Williams described her favorite element on video, here.