Georgia Tech opened him to many discoveries about himself and the world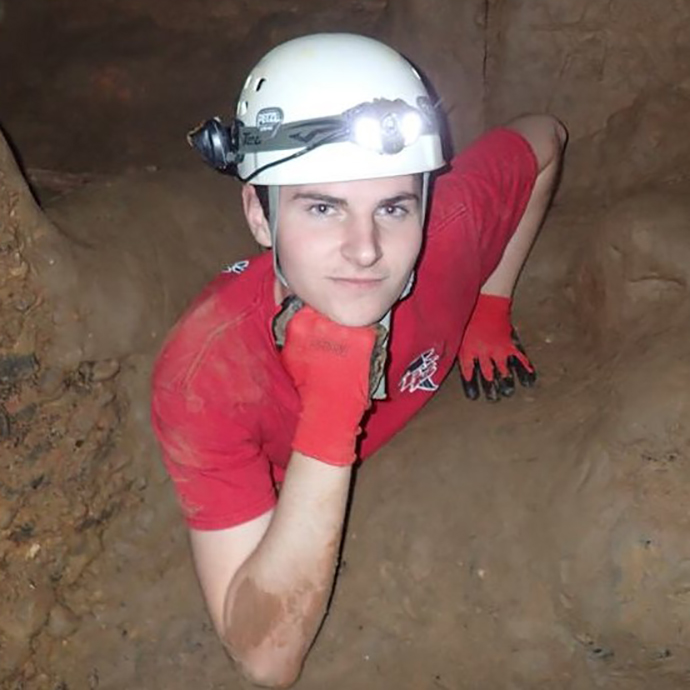 Nicholas William Pinto was born in Rochester, New York, where he lived until he was nine years old. His family moved to North Carolina and then to Georgia, where he completed high school in Flowery Branch High School, in Flowery Branch.
In high school, Nicholas took part in Quiz Bowl, Odyssey of the Mind, and Science Olympiad. In senior year, he also enrolled in the University of North Georgia.
"I always wanted to be an engineer, like my dad, until I got to senior year and discovered a passion for economics," Nicholas says. It wouldn't be until his second year in Georgia Tech that he added mathematics as a second major.
Georgia Tech opened Nicholas to many discoveries, about himself, the world, and myriad activities he didn't know about before. During his study-abroad trip, he fell in love with the German language enough to want to learn it. As a mathematics teaching assistant, he discovered his passion for teaching mathematics.
What attracted you to Georgia Tech?
It was an obvious choice for me given that I could have my tuition covered by a Zell Miller scholarship. It was the most attractive option in Georgia because of its location, atmosphere, and prestige. A campus in a big city seemed really cool to me. Georgia Tech's reputation speaks for itself.
Looking back now, I am so glad that I made the choice to come here. All the things that make my time here so memorable I couldn't even have imagined back then.
What is the most important thing you learned at Georgia Tech?
How to be efficient.
You will always have more that you want to do than you have time and effort. I quickly learned how best I learn so that I wouldn't be wasting time.
Tech also taught me to prioritize and that sometimes you can't do everything, and it's okay.
Georgia Tech exceeded my expectations. I don't even know what I expected out of my college experience, but I'm very satisfied with it now that I'm getting out.
What are your proudest achievements at Georgia Tech?
I enjoy seeing students whom I helped succeed. It puts a big smile on my face when one of the students for whom I was a teaching assistant gets a good grade on a test after coming to office hours, my residents decide to live together and hang out beyond their first year, or one of my participants on an ORGT (Outdoor Recreation Georgia Tech) trip finds a passion for the outdoors. It warms my heart to see the impact that I can have on other students.
Georgia Tech offers a lot of opportunities for mentorship, and if it wasn't for the mentors I had, then I wouldn't be the mentor I am today.
Which class made a big impact on you?
MATH 2106 (Foundations of Mathematical Proof)
was a wild ride. It's the class that prepares math students for every proof-based class. It can help determine if studying math is for you.
I had such a great time in that class working on problems that were super-interesting. I took a step back from thinking about how we use math and learned about why we can use math in the first place. That class taught me to think about math in a completely different way. I looked forward to each new topic we covered.
What is your most vivid memory of Georgia Tech?
The times that I studied with my friends.
The evenings when we would reserve a room in Clough Commons, order food from Uber Eats, and study for an upcoming test have a special place in my heart. We would alternate between getting work done and goofing around to keep spirits up.
The camaraderie among Tech students is clear anytime you walk through Clough, and I just loved seeing it. These memories capture for me the essence of Georgia Tech.
How did your time at Georgia Tech transform your life?
I discovered a lot of things about myself. I discovered I had a passion for teaching, caving, and math. Each experience I had here helped shape who I am today. I'm happy to have made so many friends along the way.
What unique learning activities did you undertake?
In the spring of my fourth year, I studied abroad in Glasgow. I was blown away by how amazing the experience was.
I had never travelled outside the U.S. before, so it was crazy travelling around Europe and learning about different cultures and languages. I had saved money from my on-campus jobs for three years to be able to have a cool experience, and I was not disappointed.
I was visited so many amazing places in 13 countries, I tried activities I didn't even know existed, and I made some great friends along the way.
My travels in Germany even inspired me to study German once I came back to Tech. I hope that one day I might live in one of the countries that I visited.
What advice would you give to incoming undergraduate students at Georgia Tech?
Try as many new things as possible.
Georgia Tech offers so much that you can't do anywhere else, and you might discover something new about yourself. I never would have thought that I would be a trip leader with an outdoor recreation program, but it became one of the defining parts of my college experience.
Where are you headed after graduation?
I would like to be a high school mathematics teacher, after either pursuing a master's degree in education or working somewhere else for a couple years. My experience as mathematics teaching assistant showed me that teaching is something I am passionate about.