Transforming health care through nursing and technology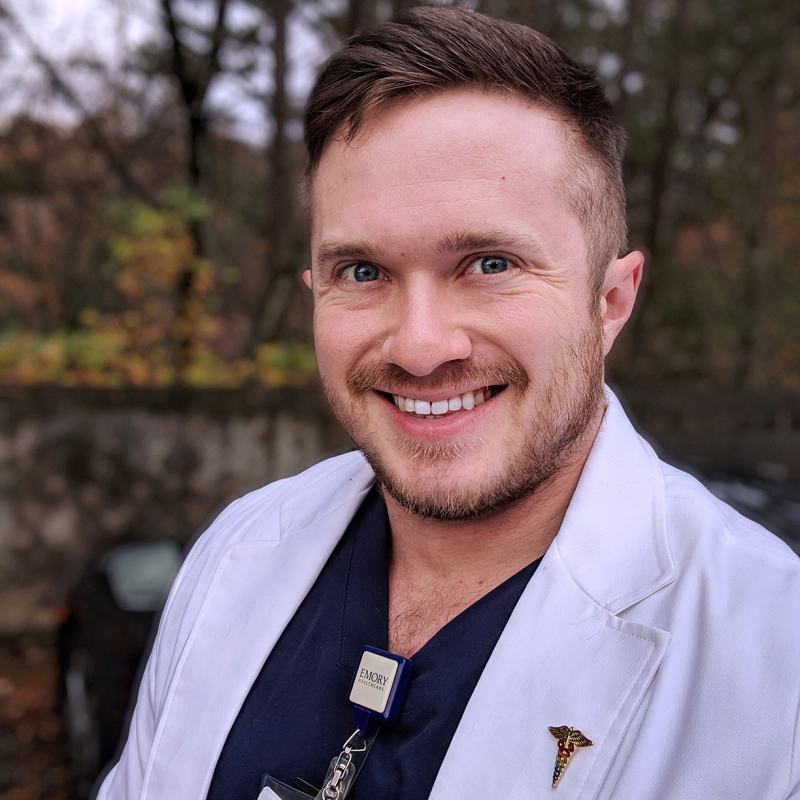 "People are often surprised to hear that I am a Georgia Tech graduate, as well as an emergency and critical care nurse," Robert Colin Blenis says. "My career path was not linear, but Georgia Tech provided me the necessary skills and opportunities." Unless you ask, you wouldn't know that Colin is also a competitive weightlifter and working for a degree in global health at Imperial College London.
After attending Roswell High School, in Roswell, Georgia, Colin majored in psychology in Georgia Tech. He received a B.S. degree in 2012 and then moved to Cornell University to pursue a Ph.D. in developmental psychology.
"The analytic skills, quantitative research skills, and broad background in science, technology, and engineering I gained while studying psychology at Georgia Tech set me apart from my peers in graduate school," Colin says. But after working at a local hospital to improve the group therapy curriculum and teach nurses to lead sessions, "I felt called to a career in health care."
Colin completed a B.S. in nursing at Emory University in 2017 and a masters in nursing education from Western Governors University in 2019. "Moving from psychology to nursing allowed me to have a direct impact on patients through my clinical skills and to shape health systems more broadly using the analytic and engineering skills I gained as a Georgia Tech student," he says.
What is a typical day in your current position?
Be prepared for anything. There is no typical day for an emergency nurse. I provide care to patients experiencing a range of ailments – from minor injuries and primary-care needs to life-threatening emergencies.
I am directly involved in trying to achieve the triple aim of health care: improving population health while improving the quality and experience of care and reducing costs. For example, I am working with Georgia Tech alumni to reduce the complications that trauma patients experience and help them better self-manage their health. This helps hospitals by reducing the number of readmissions for which they cannot be reimbursed.
Many patients have health conditions that make their veins difficult to access with peripheral IVs. Often this necessitates more costly, risky, and invasive procedures. However, I train other nurses to use ultrasound probes to guide IV placement. This reduces the need for the more costly alternative, improves the patient's experience, and allows us to administer life-saving medications more efficiently.
What has been the greatest challenge in your professional life so far?
One of my most significant challenges has been finding in the professional world the quality of mentorship I experienced at Georgia Tech. I am immensely grateful for the mentorship of Dr. Audrey Duarte, Dr. Eric Leshikar, and Dr. Jackson Marr. The mentorship I received since graduation is a source of immense personal and professional growth, but nothing has replicated what I received at Georgia Tech. Instead, I seek to provide that type of mentorship to the nurses and students I teach.
What has been the most gratifying experience of your professional career so far?
One of the most rewarding aspects of my job is training students or new nurses to provide high-quality patient care.
In addition, I was inducted as a Fellow in the Academy of Wilderness Medicine, recognizing my professional contributions and clinical excellence in the field. Wilderness medicine is what occurs in austere and extreme environments, whether in the rural areas of the United States or in places like the Himalayas, West Africa, or South America. I use my experience to collaborate with others seeking to advance health of people in austere settings.
What is the most important thing you learned at Georgia Tech to make you successful professionally?
Dr. Marr's course "Experimental Analysis of Behavior" was the most challenging course I took and yet the most valuable. He pushed us to critically examine all of what we had learned throughout the psychology curriculum. His standards were high, but his course was immensely important for my development.
Allison Martin, a Ph.D. student, led the lab portion of the course. We worked with animals at Atlanta Zoo, applying didactic content to create real change. It was the first time I applied psychology outside a class or research setting. Seeing it work got me hooked on the need for a career that blends clinical skills and research.
What is your next goal in your career path?
My next goal is to move into higher levels of nursing leadership and education. I want to use my unique background to transform health care through nursing and technology. Through a distance education program, I am now a Masters of Public Health student at Imperial College London focusing on global health.
The program at Imperial College allows me to work with world-class public health faculty while continuing my work here in Atlanta. My cohort is composed of physicians and nurses from different parts of the world. We meet frequently online and work to better the health of our communities through the lens of global health.
Just last week, I had coffee with a urologist in Japan... from my own breakfast table in Atlanta.
I am excited by opportunities to collaborate with others to better the lives of patients and improve health systems.
What career advice would you give to current students at Georgia Tech?
Explore areas outside your major. Lines between fields blur in the professional world and graduate education. Where you can see connections between disciplines is where you will find the power to create solutions that address previously unmet needs.
What is your most vivid memory of your time at Georgia Tech?
Sweating bullets during my first time on WREK Radio. At the time, I was terrified of public speaking, but I loved music. I thought hosting a show on WREK would help. It helped me get over my fear, but not before sweating through a few shirts. I remember forgetting what to say, laughing at the wrong times, and did I mention sweating? Thankfully, my co-host was seasoned and gracious enough to see me through.
What's something about yourself that's not obvious to your colleagues?
I compete in powerlifting and I'm a certified weightlifting coach. I competed in the USA Powerlifting national championships in 2017 and 2018. My best squat is 570 lbs, bench press is 405 lbs, and deadlift is 575 lbs.
If you could have dinner with any person from history, whom would you invite?
Florence Nightingale, the founder of modern nursing. I'd like to hear how she, as a woman in a patriarchal society, had the courage and forsight to use data and the scientific method to understand health problems and implement solutions with immense impact. I'd be interested to hear what she thinks of nursing and health care today.