Applying methods in cognitive ergonomics and human factors to promote safety in health care systems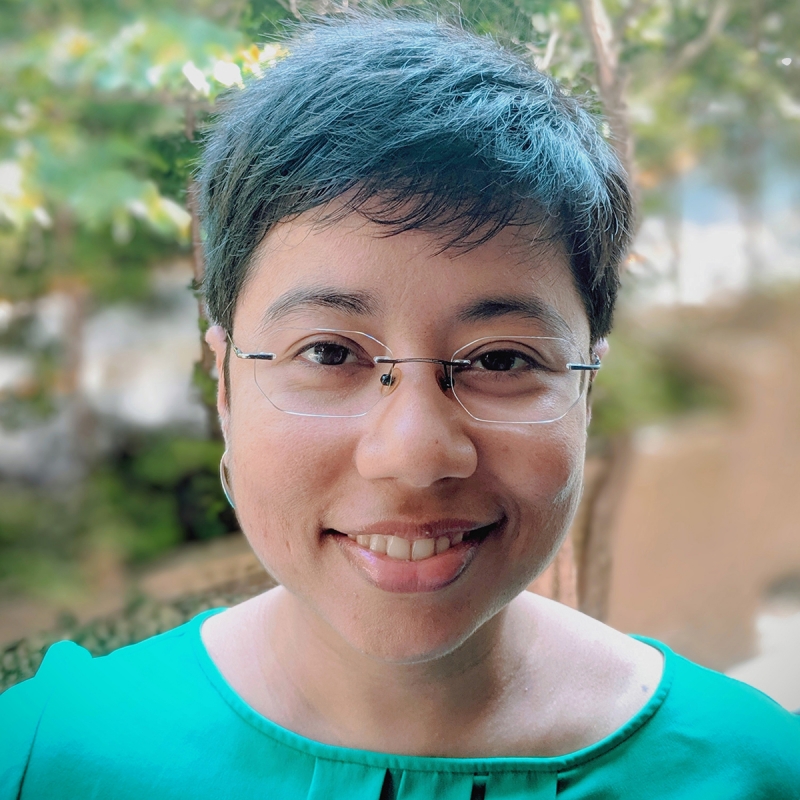 It has only been three years since Sadaf Kazi earned a Ph.D. in engineering psychology from Georgia Tech. Now living in Washington, D.C., Sadaf is a research scientist in MedStar Health Research Institute, working in collaboration with the MedStar Health National Center for Human Factors in Healthcare. In this role, she is immersed in using her Georgia Tech education and training to address medical errors and other challenges in the U.S. health care system.
Sadaf came to Georgia Tech in 2010 after completing a B.A. degree in psychology from Jai Hind College, in Mumbai, India, and a master's degree in clinical psychology from SNDT Women's University, also in Mumbai.
Sadaf's journey to her current role began in the Cognitive Ergonomics Lab of Frank Durso, professor in the School of Psychology. While there, she experienced her first foray into health care research, through the lab's collaborative projects with the Children's Healthcare of Atlanta.
"I loved the complexity of health care," she says. So much so that she designed her minor in health care systems. At Georgia Tech, she learned varied perspectives of the U.S. health care system by taking courses in industrial and systems engineering and computer science. While a graduate student, she interned in her current place of work, gaining opportunity to apply her skills in human factors and psychology research to uncover systems-based challenges in health care.
What was your path to your current position?
After graduating with my Ph.D., I was offered a hybrid research/operations position at the Johns Hopkins Armstrong Institute for Patient Safety and Quality. My time there helped me understand that good-quality research is possible beyond traditional academia. My academic training held me in good stead: I was able to apply simple but powerful scientific methods to work on research projects aimed at reducing medical errors and improving system safety and resilience.
At MedStar Health National Center for Human Factors in Healthcare, I continue applying methods in cognitive ergonomics and human factors to promote system safety in health care.
How does your role impact your employer's business or activities?
As a research scientist, I provide scientific expertise in human factors. Human factors is a multidisciplinary science that incorporates knowledge about human capabilities and limitations and designs technology, processes, and systems with a consideration of these capabilities and limitations. On a typical day, I lead and participate in research that examines medical errors from the lens of human factors.
The MedStar Health National Center for Human Factors in Healthcare conducts research, education, usability evaluations, and safety advisement in health care human factors. I support the center's research and education arms. On any given day I may be involved in designing research studies, designing data collection instruments, and leading data analysis.
My job also includes extensive writing of research proposals and grants, manuscripts, and reports. I also spend time mentoring students and research assistants.
What has been the greatest challenge in your professional life so far?
My greatest "challenge" has been choosing between several equally exciting projects, because health care has numerous specialties. Although several similar factors may add complexity across all areas, I am curious about which nuances account for difficulties in any given area. However, it is not always feasible to pursue multiple projects. So, I have begun focusing on areas that are more intimately connected to my primary research interest in cognitive ergonomics.
What has been the most gratifying experience of your professional career so far?
I work in a field that provides many gratifying experiences. A career in research means that I get to dabble in wonder, excitement, and creativity of the research process every day.
Mentoring students and watching them learn about the field of human factors, grow as scientists, and get excited about discoveries is always gratifying. It is also very fulfilling to conduct research that has real-time implications on system safety in health care.
What is the most important thing you learned at Georgia Tech to make you successful professionally?
Through the mix of classes and experiences during graduate school, one of the most consequential skills I acquired is learning from and working with people from diverse backgrounds.
I gained a strong foundation in basic theories and research methods in psychology and human factors. I learned that good-quality research is iterative, requires hard work and a strong work ethic, but is immensely rewarding. Finally, I learned rigorous technical writing at Georgia Tech as well.
What is your next goal in your career path? How are you preparing for it?
The infusion of technology in health care practice through electronic health records means that we now have new data types that can help us understand how work is performed in health care. I would love to expand my knowledge in incorporating these data into my research questions.
What career advice would you give to current students at Georgia Tech?
Graduate school can be tough and frustrating sometimes, but it is also a lot of fun. Remind yourself that you are making tremendous gains in your learning, and enjoy your time at Georgia Tech!
Engage with your professors and fellow students. Invest time in learning from them and in having them critique your work.
Take courses outside of your department. Being exposed to different ways of thinking about similar problems will help you develop a better overall perspective on your research questions.
Conduct research. Take advantage of the many funding opportunities to present your work at conferences. I met most of the people in my current professional network at conferences.
What is your most vivid memory of your time at Georgia Tech?
My most vivid memories involve interactions with people in the surroundings of academia: the many hours spent in the Cognitive Ergonomics Lab with my fellow lab mates wresting with difficult research problems, as well as the colloquia and classes where I presented my research and engaged with invited speakers and fellow graduate students.
What's something about yourself that's not obvious to your colleagues?
I've started container gardening. It has been a joy to nurture the plants and watch them thrive!
If you could have dinner with any person from history, whom would you invite?
I am fascinated by evolution, and I love reading the work of early paleontologists. I also deeply appreciate the difficulties faced by women scientists in previous generations who have eased my access to a career in research. If I could, I would love to host Jane Goodall and Mary and Louis Leakey.