Credit: Atlanta Science Festival.
March 2023 — Atlanta, GA
For STEAM enthusiasts across Atlanta, the month of March is a highlight of the year for one big reason: the Atlanta Science Festival.
Occurring annually since in 2014, the Atlanta Science Festival is a "celebration of the world-class learning and STEM career opportunities in metro Atlanta, featuring 150 engaging events for curious kids and adults at venues all across the region." As a founding sponsor, Georgia Tech has been an intricate part of the Festival since its inception. Now in its tenth iteration, this year's festival will host events from March 10 – 24, culminating in the Exploration Expo — a large, interactive event in Piedmont Park — on March 25.
We spoke with some of the event organizers and presenters in the College of Sciences to get a sneak peek at what this year's festival will have to offer.
College of Sciences Festival Events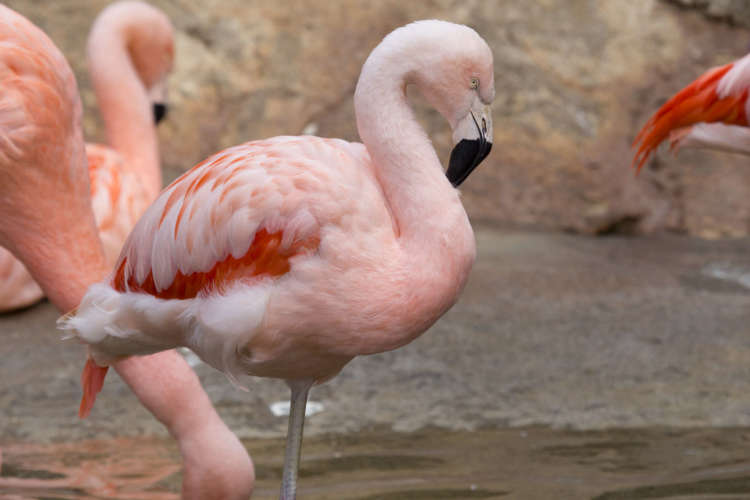 Credit: Zoo Atlanta.
How do flamingos stand on one leg for so long? How do elephant trunks work? How do moths see, snakes move, and frogs jump? At this event, researchers from Georgia Tech's College of Sciences and College of Engineering, as well as from Clemson University and the University of Akron, will gather at Zoo Atlanta to answer these questions and more.
Researchers will be explaining the science behind animal movement and bio-inspired design with "live-animal or robotic-model demonstrations of how animals accomplish some of the intricate, fascinating, and sometimes powerful mechanical feats that they use in their daily lives," shared Joseph Mendelson, adjunct professor in the School of Biological Sciences, director of research at Zoo Atlanta, and one of the event's organizers.
"[Attendees] may observe high-end and simple robots that have been designed to replicate some aspect of what the animals do. In some cases, the researchers will be able to perform demonstrations with the animals themselves!"
When: Saturday, March 11 from 10 a.m. to 2 p.m.
Where: Zoo Atlanta
Registration and fees: No registration required. Event included in Zoo Atlanta admission
Members of the Georgia Tech community are opening their doors for the Atlanta Science Festival. Whether you're interested in robotics, brains, biology, space, art, nanotechnology, paper, computer science, wearables, bioengineering, chemical engineering, or systems engineering, there will be activities for you. "This year attendees will be able to participate in hands-on activities in nanotechnology and papermaking to name a few," shared Mikkel Thomas, associate director of Education and Outreach for the Institute for Electronics and Nanotechnology (IEN). "They will also be able to watch demonstrations using robotics, lasers, fuel cells and honey."
Visit campus for lab tours, hands-on STEAM activities, exhibits, demonstrations, opportunities to meet student researchers, and learn about the research and so much more happening at Tech.
When: Saturday, March 11 from 12 to 5 p.m.
Where: Georgia Tech Campus
Registration and fees: Free with advanced registration
Hosted by the students, faculty, and staff involved in the STEMcomm VIP course, this event will feature several Georgia Tech research groups in wearable science and technology.
"STEMComm (or STEM Communication and Outreach) is a VIP, or Vertically Integrated Project, team where students, faculty, and staff work together to make fun science content and plan outreach events," explained Jalen Borne (CHEM '22), a graduate student in materials science and engineering who has been in STEMcomm since his time as an undergraduate in the School of Chemistry and Biochemistry. "This is our busiest time of the year because we spend much of our time planning the ins and outs of our annual event for the Atlanta Science Festival!"
"This year's event will put a scientific spin on the classic fashion show, with a 'catwalk' featuring wearable tech, sustainable garments, and other clothing built by science, such as bee suits and firefighter gear," shared Michael Evans, senior academic professional in the School of Chemistry and Biochemistry and one of the STEMcomm instructors. "Attendees will experience 'wearable science' firsthand and learn about how scientific discoveries are advancing what we wear and why we wear it!"
When: Saturday, March 11 from 7 to 9 p.m.
Where: Georgia Tech Kendeda Building for Innovative Sustainable Design
Registration and fees: $20 ($10 for students)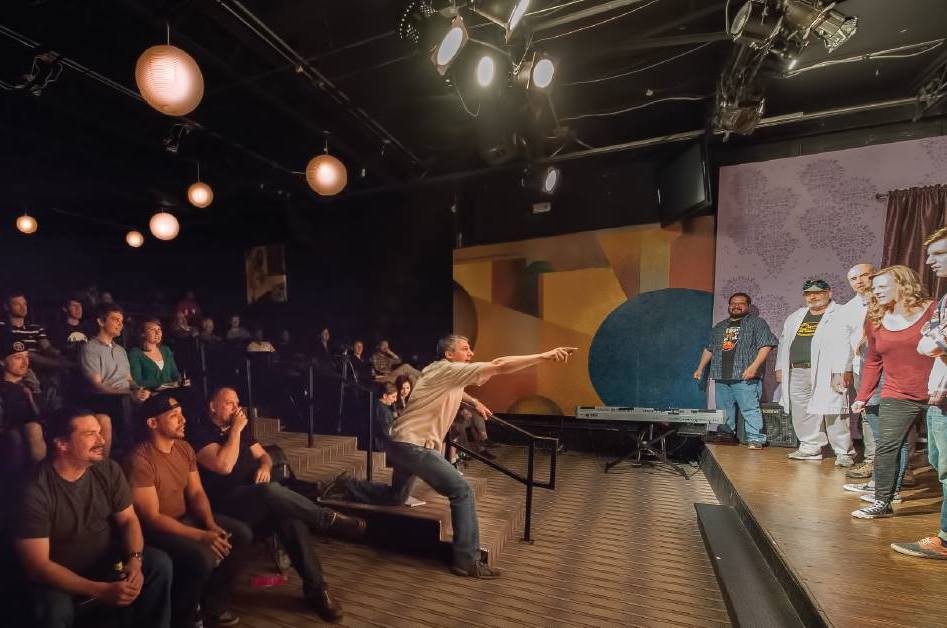 Credit: Atlanta Science Festival.
At this event, science is definitely a laughing matter.
"[Science Improv is] a geeky twist on a classic improv show, with STEM-focused games and topics and performers with STEM connections," explained Lew Lefton, one of the event organizers and recently retired College of Sciences assistant dean for Information Technology and associate vice president for Research Computing. "Improv is driven by audience participation, so every show is different. It's a fast-paced, high-energy, STEM-coated blast!"
When: Wednesday, March 15 from 7:30 to 9:30 p.m.
Where: Whole World Improv Theater
Registration and fees: $10 ($5 for students)
Hosted by the GT Observatory and STEM@GTRI, join in virtually to view the moon using the Aloha telescope. Attendees will have the opportunity to control a telescope hundreds of miles away to get a closer look at the features of the moon, and learn all about our closest neighbor from James Sowell, principal academic professional in the School of Physics and the director of the GT Observatory.
When: Thursday, March 16 from 10 to 10:30 a.m.
Where: Virtual event
Registration and fees: Free with advanced registration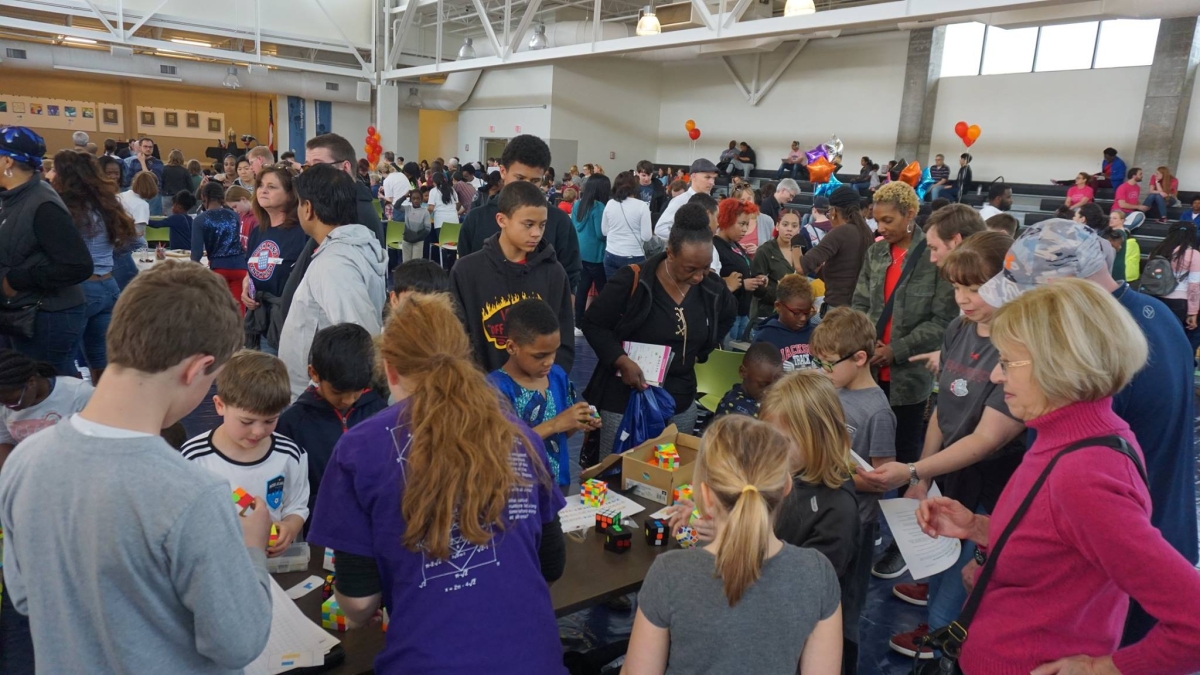 Attendees browse the demonstrations at a past Mathapalooza! event.
"At Mathapalooza! there will be big spaces filled with engaging puzzles, games, and artwork," explained Evans Harrell, professor and associate dean emeritus in the School of Mathematics and one of the event organizers. "Up on the stage you will see how math connects with music, circus arts, comedy, drama, and more. You may be a juror in the trial of the notorious radical known as the Square Root of Two! You will be astonished and delighted that math can dance!"
When: Saturday, March 18 from 1 to 4 p.m.
Where: The Paideia School
Registration and fees: $12 adults, $4 kids
Other Georgia Tech Events

The Exploration Expo

Every year the Atlanta Science festival culminates in Atlanta's biggest interactive science event: the Exploration Expo. Open to adults, families, and children of all ages, the Expo takes over Piedmont Park to feature over 75 hands-on, interactive booths with STEAM demonstrations and activities.
This year's Expo will take place on Saturday, March 25 from 10 a.m. to 4 p.m. A few of the College's presenters offered some insights into what attendees can expect from their booths at this year's Expo.
How big is the solar system, really?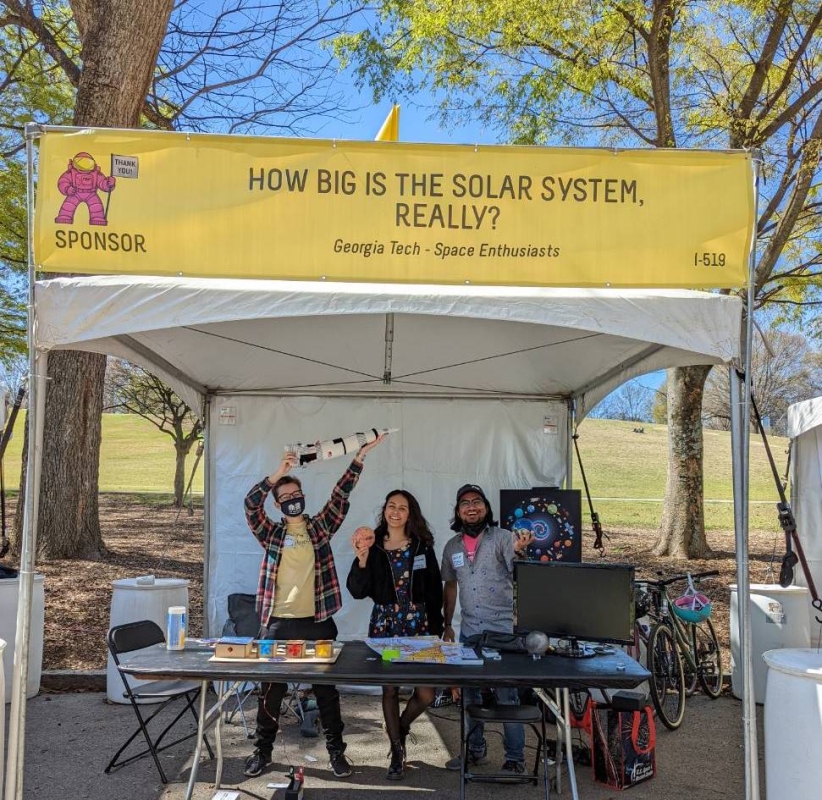 Ph.D. students Christina Buffo (left), Tatiana Gibson (center), and Mohamed Nassif at the Exploration Expo in 2022.
"One of my favorite things about space," shared Christina Buffo, a Ph.D. candidate in the School of Chemistry and Biochemistry and a member of the Georgia Tech Space Enthusiasts student group hosting this booth, "is that people all around the globe and throughout history have been looking up at the same stars and planets and wondering the same questions: what are these things? What are they made of? What do things happening in the heavens mean for us on Earth? Are we alone?"
Explore these questions and more with Georgia Tech scientists through interactive models of the moon, Mars, and Earth, as well as a scale model of the solar system.
"At outreach events and in conversations with people who don't study space, there's so much excitement," Buffo noted. "I love to see people get stars in their eyes as they think about some of these same big questions."
What really drives "Mother Nature"?
Delve into the science behind weather and climate with live demonstrations of weather systems, ocean currents, and more.
"Weather events impact society constantly, and people genuinely want to know how to understand weather given its impact on our daily life," explained Zachary Handlos, a senior academic professional in the School of Earth and Atmospheric Sciences and one of the organizers of several booths hosted by the School. "Also, with global climate change being a 'hot' topic of interest to society, it is fun to help people better understand how our climate is changing this century and what we can do about it."
"It never ceases to amaze me the positive energy that exists when attending the Atlanta Science Festival expo. It really is an experience that everyone needs to check out once if living in Atlanta!" – Zachary Handlos
Trash to Cash: Can We Turn Wastes into Resources?
Learn how waste products can be turned into valuable resources with associate professors Yuanzhi Tang in the School of Earth and Atmospheric Sciences and Hailong Chen in the School of Mechanical Engineering.
"This year we will demonstrate the importance of critical resources such as nutrients and critical metals, their importance for clean energy and sustainable development of our society, and how we can recover them from waste streams," shared Tang. "We will create some simple hands-on experiments about nutreint recovery from biological wastes (e.g., waste water treatment byproducts, animal manures), as well as rare earth element recovery from coal fly ash. We will partner with Prof. Hailong Chen's group from Mechanical Engineering at Georgia Tech, who will demonstrate batteries and the recovery of critical metals from spent batteries."
What are social insects?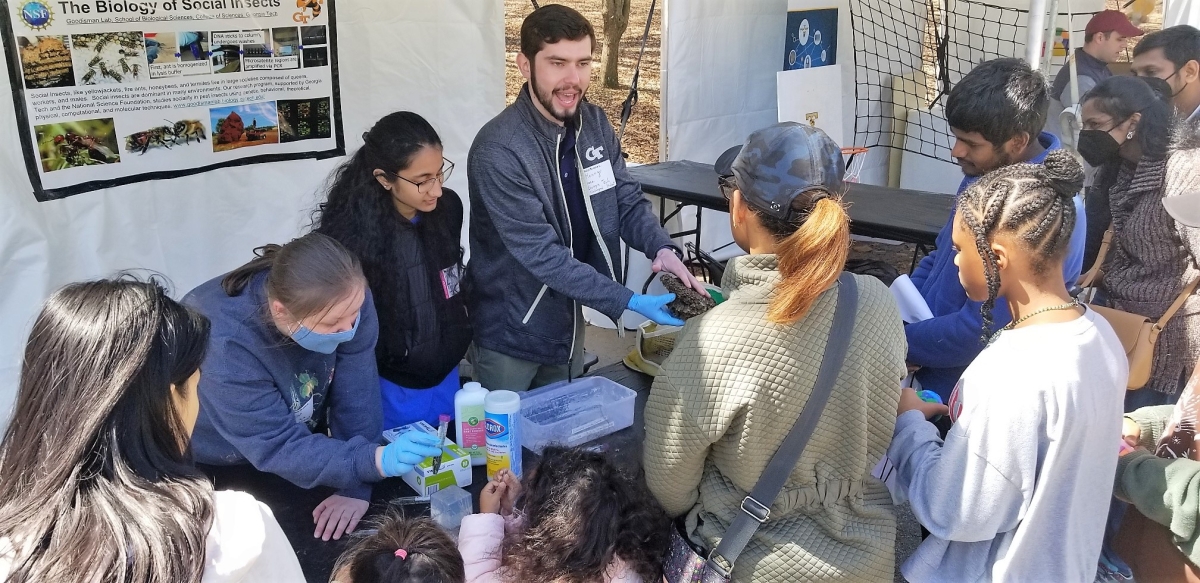 Students from Michael Goodisman's group at the Exploration Expo in 2022 explaining the science of social insects to attendees.
"Our booth at the exploration expo will feature live fire ants, preserved yellowjackets, yellowjacket nest comb, and the bee suits we wear to collect yellowjackets," shared School of Biological Sciences Professor Michael Goodisman. "Visitors can expect to see fire ants in action both digging tunnels in a clear material and rafting on water, to touch yellowjacket nest comb, and even to take home their very own yellowjacket!"
"We are looking forward to introducing kids and their parents to the Georgia Tech mascot up close and personal," Goodisman added, "and to sharing our passion for social insect biology with people who may not initially love bugs quite as much as we do."
Why Do Bacteria Glow?
With their booth, the Center for Microbial Dynamics and Infection (CMDI) is hoping to shed some light on microbiology.
"Our booth will be about bioluminescent microbes, and we will explain why microbes glow," explains microbiology Ph.D. student and CMDI member Iris Irby. "Participants will be able to look into dark boxes and see bacteria glowing, and see what bacteria looks like normally in a flask or on a plate. Participants will then get to learn about quorum sensing- how bacteria talk to each other, which can make them glow!"
"I can't wait to see all of the participants learn more about microbiology and to be able to share my love of microbiology with future generations."
Be a Data Point!
The research and evaluation team from Georgia Tech's Center for Education Integrating Science, Mathematics, and Computing (CEISMC) has served as the external evaluator of the Atlanta Science Festival since 2014. This year's efforts, coordinated by Research Associates Katherine Boice and Talia Capozzoli, includes the collection of hundreds of surveys and on-site interviews at the expo. The entire research and evaluation team, led by Principal Research Scientist Meltem Alemdar, volunteer their time to ensure the necessary data is obtained as they encourage attendees to "Be a Data Point."
Contact
Writer and Contact:
Audra Davidson
Communications Officer II
College of Sciences
Editor:
Jess Hunt-Ralston
Director of Communications
College of Sciences at Georgia Tech