Researchers and Alumni Aid in $2.6 Million Effort to Restore Salt Marshes in Historic Charleston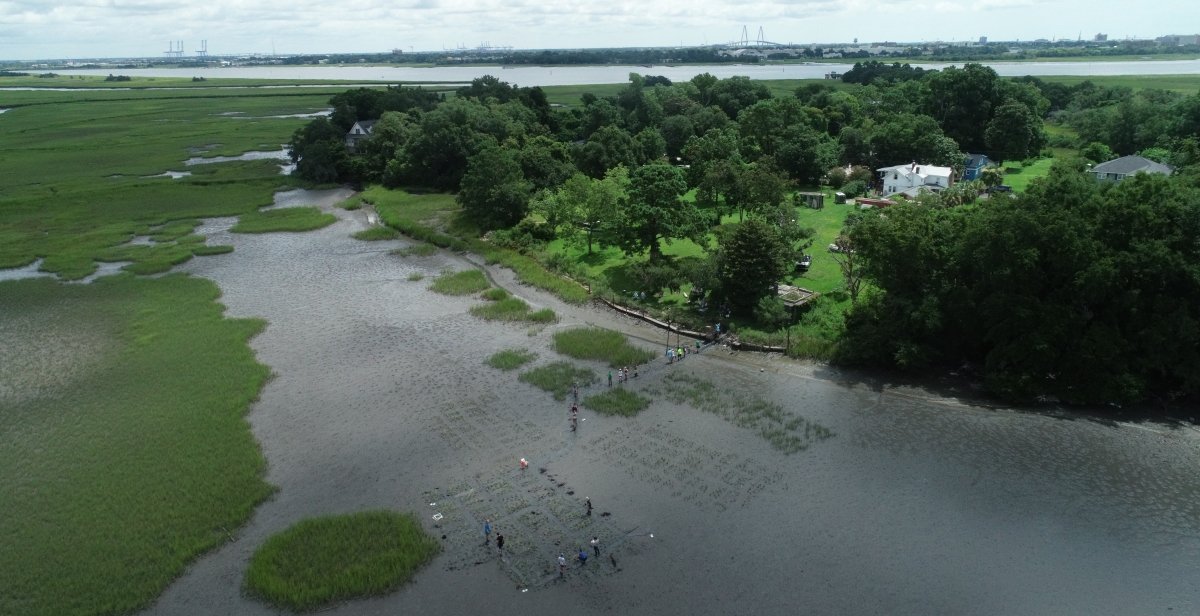 An aerial view of the marsh restoration site in historic Maryville, in Charleston, South Carolina. Volunteers can be seen planting grasses in the marsh. (Photo: Shellfish Research Section, South Carolina Department of Natural Resources)
Dec 06, 2022 — Atlanta, GA
For marine scientist, climate activist, and Tech alumnus Albert George (MS HSTS 2009), the fight against climate change is also a fight for home.
"Because if we don't do this work … then basically it means a place that I grew up in and a place that I call home will no longer exist."
Home for George means the coastal plains and salt marshes of Georgia and South Carolina. Despite their critical role in protecting eroding coastlines, sustaining wildlife, and supporting local fishing economies, salt marshes are degrading rapidly — up to 50% of their historical land coverage has been lost over the last century.
Using citizen science and accessible education initiatives, George — in his former role as the inaugural Director of Conservation at the South Carolina Aquarium — aimed to empower communities like his in Charleston, South Carolina to do something about it.
Those efforts recently culminated in a $2.6 million National Fish and Wildlife Foundation effort to restore degraded salt marshes in Charleston.
"Because if we don't do this work … then basically it means a place that I grew up in and a place that I call home will no longer exist." —Albert George
Led by Michael Hodges, a shellfish biologist in the South Carolina Department of Resources (SCDNR), the project will continue to build on previous work with the original project partners — including the South Carolina Aquarium, Georgia Tech researchers, and Robinson Design Engineers — and community volunteers through the South Carolina Oyster Recycling and Enhancement Program to study and restore seven acres of salt marsh in West Ashley, a historically important town of west Charleston formerly known as Maryville.
"We're ecstatic to receive funding for this project," Hodges shared in a recent press release about the project. "We're excited that we will get to involve so many volunteers and partners in the project's implementation. This will be a unique project, using novel, nature-based solutions to restore the degraded tidal marsh in this historically significant part of the Lowcountry."
As part of the project, Joel Kostka, a professor and associate chair of Research in the School of Biological Sciences, will lead a team of researchers to not only monitor these restoration efforts, but gain insights into why the marshes degraded in the first place — and how to prevent it from happening in the future.
"Our focus is really trying to understand how to restore the ecosystem," Kostka explained. "Developing a mechanistic understanding of what keeps the marsh platform strong and what builds resilience in the face of climate change."
SCDNR Shellfish Biologist Michael Hodges (center) works with Tech alumni Joshua Robinson and Nolan Williams of Robinson Design Engineers (left) and several Georgia Tech graduate students to determine marsh elevation and plant biomass. (Photo: Joel Kostka)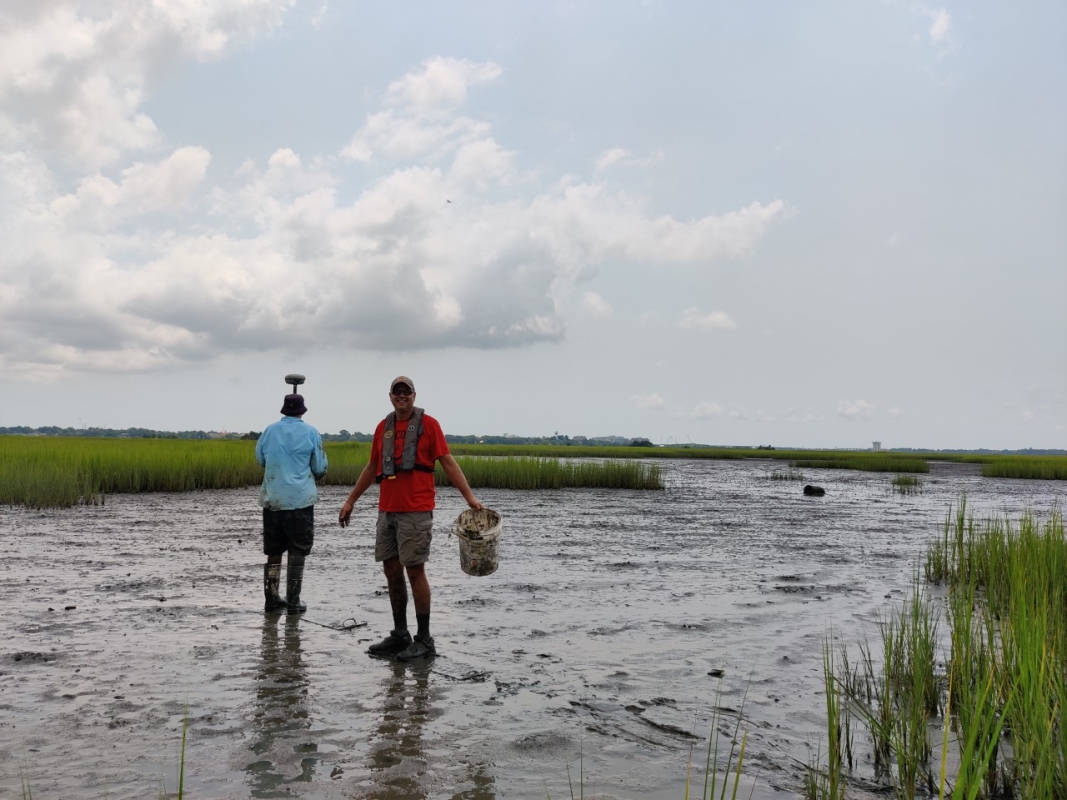 Michael Hodges (left) and Joel Kostka work to determine the elevation of the degraded marsh habitat. (Photo: Joel Kostka)
Restoration and resilience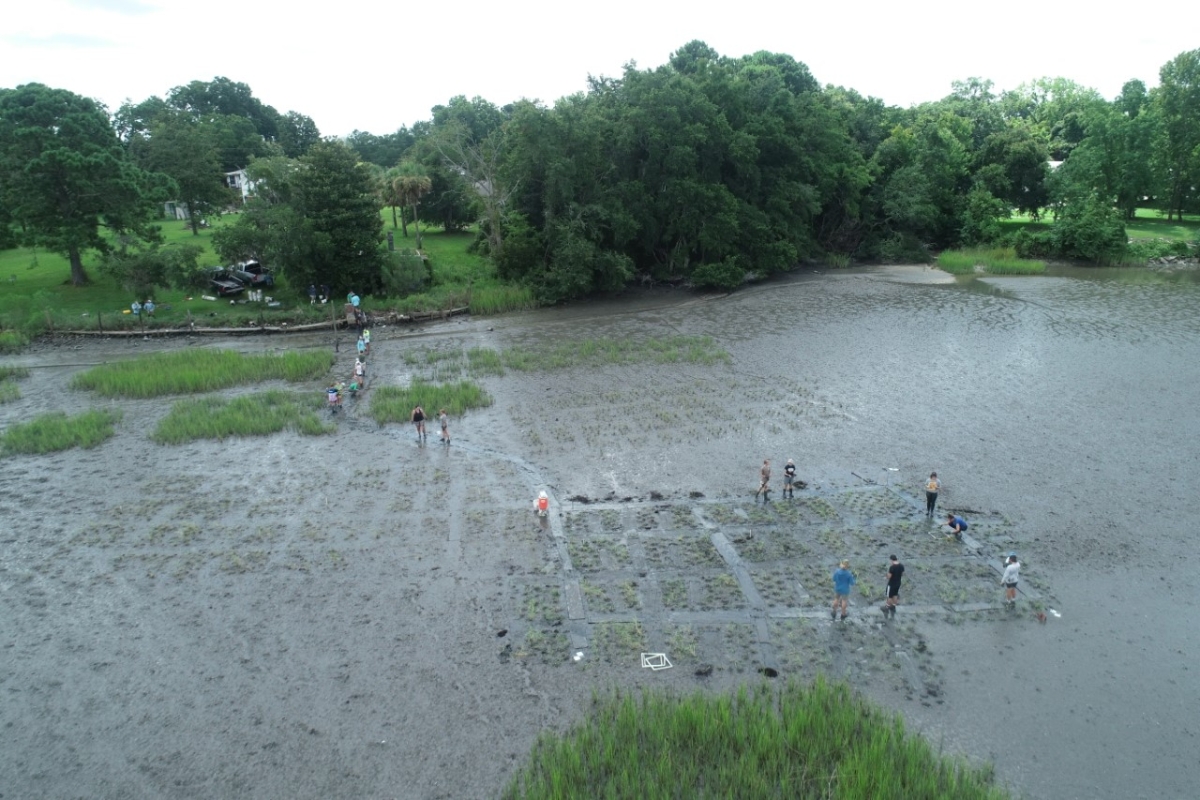 Volunteers work to restore the marsh by planting grass in the foreground near John Carr's property, which can be seen in the background. (Photo: Shellfish Research Section, South Carolina Department of Natural Resources)

The project is the next phase of an ongoing effort to develop the most effective methods of restoring the marsh. Over the past three years, Kostka, who has a joint appointment in the School of Earth and Atmospheric Sciences, has worked with SCDNR and Robinson Design Engineers, a local firm co-led by Tech alum Joshua Robinson (CEE 2005), to develop engineering and design plans for the restoration of the salt marshes.
"That project went really well," shared Kostka, "and now we have developed engineering and design plans for the actual restoration as we are moving forward with the next phase."
Work for the current phase of the project is set to begin soon. Over the next four years, community volunteers will work to plant marsh grasses, restore oyster reefs, and excavate the tidal creeks that supply the marsh with sea water.
In addition to aiding in the restoration efforts, Kostka and his team will monitor the growth of marsh grasses, changes in sea level and land elevation, wildlife activity, and the chemistry of the marsh waters.
"We have planted grass out there, and we know that grass planting works," Kostka shared. "The grasses will take hold and grow. But we don't understand why the grass died in the first place."
"What my group will be doing is to try to assess the why," Kostka explains. "Why did the marsh die? How can we be sure that this restoration will be sustainable over the long term? And also, can we improve our restoration practices? Can we develop metrics that tell us how the ecosystem is doing, whether the habitat was restored, and whether that restoration is going to be sustainable?"
Community grown

As one of the region's most prominent African American towns, the restoration site in West Ashley plays an important role in Charleston's history. Chartered in 1886, the Historic Town of Maryville was seen as a model of Black self-government. The all Black community was established by former slaves and their descendants, and provided a place to buy property, raise a family, and start businesses in the Jim Crow-era South.
Though the town charter was revoked in 1936, the community is still known as Maryville and Ashleyville. Ashleyville is the area of Maryville that is closest to the Ashley River and where the marsh land is located.
"I'm what you call Gullah Geechee," shared Albert George, who currently works as the Carbon Neutral Program Manager at Apple and is also a co-founder of the Amazon Reforestation Project. The Gullah Geechee people are descended from Africans enslaved on rice, indigo, and cotton plantations on the lower Atlantic coast. "So, my family roots are inextricably tied to the coastal plains of Georgia and South Carolina."
George has spent his career studying marine and climate science, as well as science equity and policy, with the goal of starting equitable and accessible initiatives to combat climate change and sea level rise — especially in coastal communities along the Atlantic.
With concerns that sea level rise and other climate change disturbances will disproportionately threaten underserved coastal communities, George founded the Resilience Initiative for Coastal Education (RICE) at the South Carolina Aquarium in 2015 in collaboration with the U.S. Department of Energy, Medical University of South Carolina, South Carolina Educational Television, and Allen University.
"What we wanted to do with RICE was a couple of things," George described. "Number one, we wanted to break down barriers that previously existed of making this topic accessible to everyone. We also wanted to make a focus on how do you reach communities that have been traditionally not at the table, or excluded from these conversations? And then we also wanted to be able to work as a conduit to bring resources to communities that, to be honest with you, need the resources the most."
"What excites me most is that this was a true collaboration. It was not us coming in with a research project. It was literally the community that stated the need. It was really us coming together to meet that need in a way that was going to be equitable." —Albert George
As part of RICE, George collaborated with Jane Disney, an associate professor of environmental health and Cait Bailey, a systems developer at MDI Biological Laboratory, to initiate a citizen science program using the novel citizen science data platform, Anecdata. With a customized phone app, community members were encouraged to send photos of sea level changes and plastic pollution in the marshes surrounding Charleston.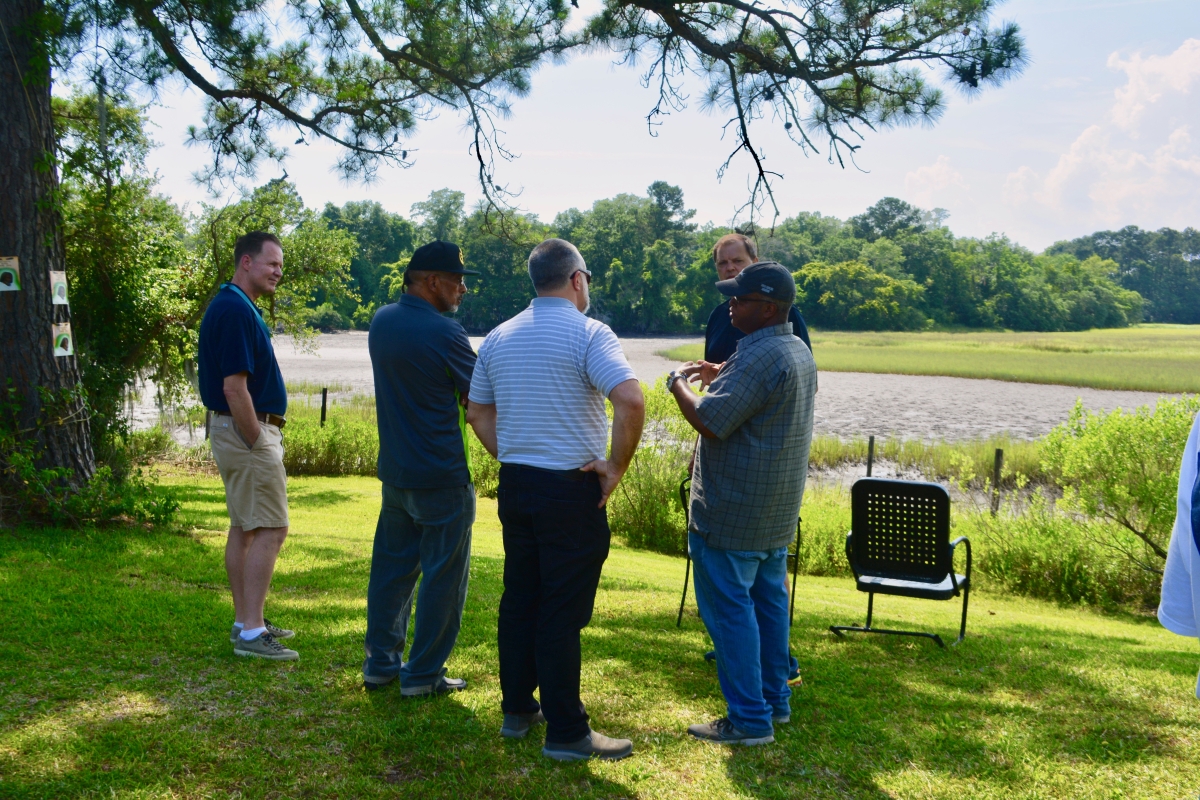 Joel Kostka (right, background) and Albert George (right, foreground) meet with collaborators in John Carr's backyard (second from left) to discuss the project in 2021. Carr's property now acts as one of the primary restoration sites for the project.
It was through this initiative that John Carr, Jr. brought the marsh die-off to George's attention. "I affectionately call myself 'Geechee'," he said, sharing that his grandfather served as the last mayor of Maryville. In 2018, Carr showed George a photo of his family home in the 1980's — the current mud flats were a stark comparison to the lush marsh grass depicted in the photo.
"I noticed it died out — just died out for no reason — in my mind," Carr recently shared with the Post and Courier. "And I started inquiring over and over, seeing if I could get somebody to pay attention to it."
George then rallied collaborators — including Kostka — to tackle the project.
"That's the beauty of this project, as I see it, is that it really started from the community," Kostka shared. "They realized that this environment was degraded, and they wanted to do something about it."
"What excites me most is that this was a true collaboration," George echoed. "It was not us coming in with a research project. It was literally the community that stated the need. It was really us coming together to meet that need in a way that was going to be equitable."
"What I tell people in a lot of ways, I'm fighting for home. That's been my call," George shared. "I take pride in the progress and service motto that I was steeped in when I was there at Georgia Tech. I'm just doing my best to leverage my talents to advocate for underserved communities, but also to move the needle."
About Georgia Tech
The Georgia Institute of Technology, or Georgia Tech, is a top 10 public research university developing leaders who advance technology and improve the human condition. The Institute offers business, computing, design, engineering, liberal arts, and sciences degrees. Its nearly 44,000 students representing 50 states and 149 countries, study at the main campus in Atlanta, at campuses in France and China, and through distance and online learning. As a leading technological university, Georgia Tech is an engine of economic development for Georgia, the Southeast, and the nation, conducting more than $1 billion in research annually for government, industry, and society.
Contact
Writer:
Audra Davidson, College of Sciences
Editor and Contact:
Jess Hunt-Ralston
Director of Communications
College of Sciences at Georgia Tech